Cosmetic Dermatology
Laser Hair Removal
One of the most time consuming parts of hygiene is hair removal. Over time, we spend thousands of hours plucking, waxing, shaving, and using hair removal creams. It can become a chore, one that often results in cuts and red bumps due to irrtation. Keeping a sharp razor is also expensive with the cost of razor blades having increased so much in the last few years. If you are tired of dealing with constant hair removal, it might be time to try laser hair removal. World's Famous Dermatologist offers laser hair removal Stockbridge & Lawrenceville, Georgia.
Laser Hair Removal
World's Famous Dermatologist
What To Expect
Laser hair removal is non-invasive and does not require down time after the procedure. You can expect to have a little discomfort during the process and the skin may feel like it is sunburned afterwards. It may take a few sessions depending on the size of the area as well as the amount of hair. The good news is that it is much more permanent than any other means of removal. Although there is no hair removal that is completely permanent, laser hair removal is the most effective and long lasting.
Using light energy converted to heat, the laser will collapse the hair follicle. This destruction will prevent or slow future hair growth. Laser hair removal works in the following areas:
Back
Bikini area
Legs
Neck, chest and shoulders
Facial areas excluding eyelids and area around the eyes
Arms
After the procedure is complete, it may take a few weeks for the hair to completely disappear. This is because the hairs are gradually falling out. The length of time the hair will be gone varies from person to person.
Before The Hair Removal
The World's Famous Dermatologist, Dr. David Bryant, will ask you to do a few things before the day of your appointment:
Shave the area so that any surface hairs will not be burned during the process.
Stay out of the sun or if you must be outside, use a high SPF sunblock in the 6 weeks before.
Do not use sunless tanning creams or go to a tanning bed at least 4 weeks prior.
No other hair removal remedies should be used or done in the 4 weeks before the procedure.
Discontinue blood thinners and anti-inflammatory drugs a few days prior.
CoolGlide Laser (Hair Reduction):

CoolGlide is a hair reduction modality that reduces hair volume with a laser light. CoolGlide also treats Pseudofolliculitis Barbae (Razor Bumps). This laser does wonders for folliculitis, it destroys the hair follicle leaving the follicle disabled. It treats all skin tones and complexions including tanned skin. The laser treats the follicle without causing thermal damage to the surrounding tissue. It cannot treat grey, white, blonde or red pigmented hair as the laser cannot absorb these colors. It can only absorb brown and black hair.

CoolGlide Laser (Hair Reduction) is capable of relieving: Unwanted hair on the body or face or pseudofolliculitis (razor bumps) Note: a patient who does not have grey, white, blonde or red hair will not improve with this treatment.
Who is a candidate for Laser Hair Reduction: A patient who has unwanted hair on the body or face or Pseudofolliculitis. A patient who does not have grey, white, blonde or red hair.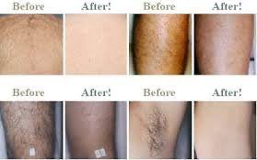 World's Famous Dermatologist has the training and experience necessary to perform your laser hair removal Marietta, Johns Creek, Stockbridge & Lawrenceville, Georgia. Call us today to get started: (678) 885-7110.
Service Areas:
Just a short drive for Rex, Ellenwood, Morrow, College Park, Conyers, East Point, Jonesboro, Lake City, McDonough, Lovejoy, Conley, Locust Grove, Avondale Estates, Red Oak, Woolsey, Decatur, Atlanta, Pine Lake, Druid Hills, Scottsdale, Union City, North Decatur, Clarkston, Stone Mountain, Jenkinsburg, Klondike, Experiment, Porterdale, Fairburn, Griffin, Centerville, Tucker, Tyrone, Forest Park, Riverdale, Hampton, Church Street, Snapfinger, Oxford, Brooks, Covington, Hapeville, Belvedere, Dunaire, Lithonia, Redan, Inman, Fayetteville, Sunnyside.